We felt that we had something undone in relation to the Norwegian sea bass, therefor we went down to our hot-spot. At 5am and still dark, we arrived at our place in Flekkefjord. Some sprats ripples in the surface, but who chased them? We get some mackerels, but the sea bass we did`t see.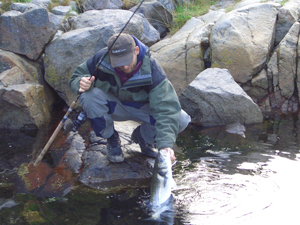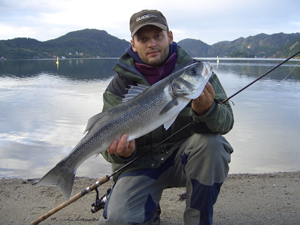 It brightens, and at 8.30 Leidland gives a message - a good fish have assaulted the lure(21 g) he fished with. It soon turns out that the assumptions are correct - a sea bass at 2.98 kg is landed. Leidland feel however little cheated - the bass should have fighter better ..
After Davidsen have sailed around in the belly-boat and tried the fly, it's time for a cup of coffee. But why not have a bottom bait out while enjoying the morning sun? A paternoster-tackle is rigged, and a piece of a mackerel is used. He did not come halfway into the cup before he get a run on the mackerel - he did`n reached the rod before the run was over, he was not able to hook the fish. New bait back to the coffee...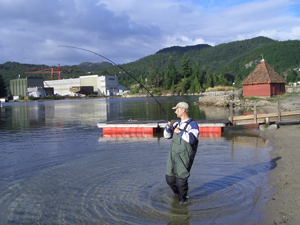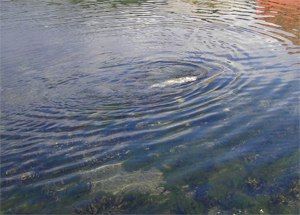 After a while, a new run get started. The line strolling out in a good pace. Something fast and strong starts to fight. The locomotive beyond make the reel screaming. It goes gradually up to him that this is the biggest sea bass he have seen. He starts winning the line, and the fish came closer to the beach. Then we see the fish for the first time - it is unreal huge and it is getting very exciting - this must be landed.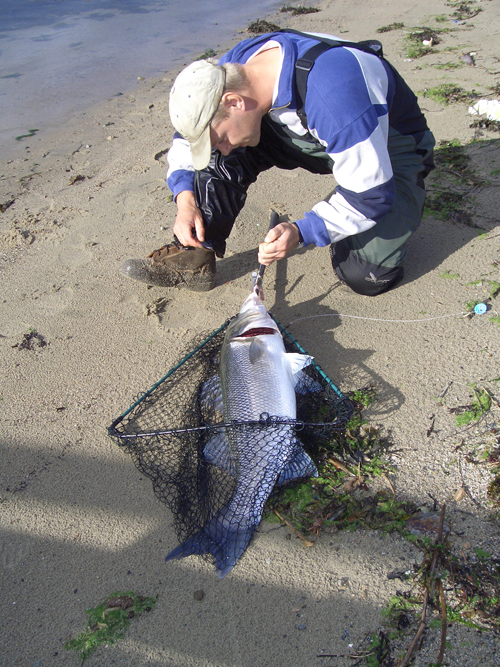 When the photographer has got what he want, we get the fish in the net - and it's big. The weight shows 6.09 and is 89 cm. New Norwegian record by a clear margin.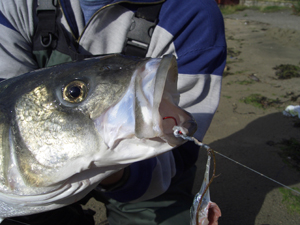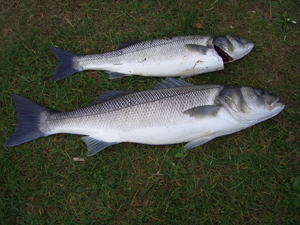 The hook sits far out, but firmly grasp the bone plate in the mouth. No danger of it would drop.
When we leave it beside the "small" sea bass at 2.98, we see that this is of a completely different caliber.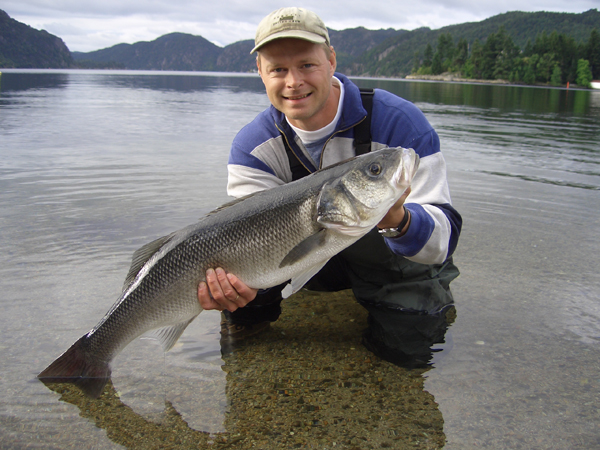 Nice weather, good fishing. Two reasons to be relatively satisfied with life.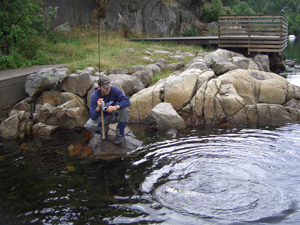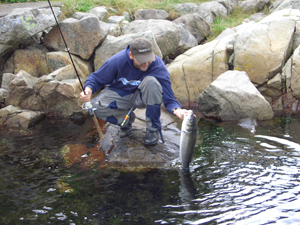 Float angeling - without having landed bass on it. But once must be the first. Leidland run a really vigorous sea bass this time, and the fight is very good - despite the fact that this is today's smallest - nominal 2.69 kg. This will, however, get his freedom back.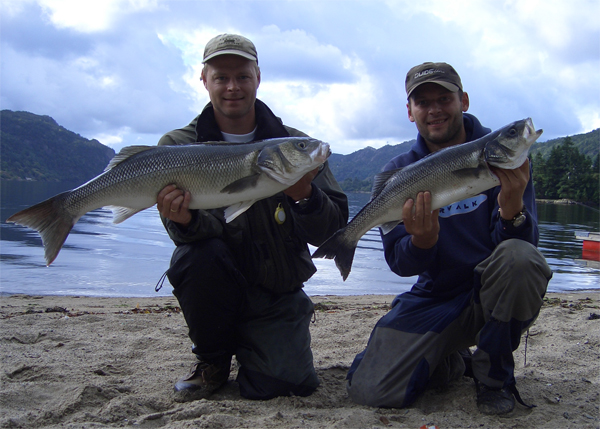 This demonstrates well the potential for sea bass fishing we have in this country